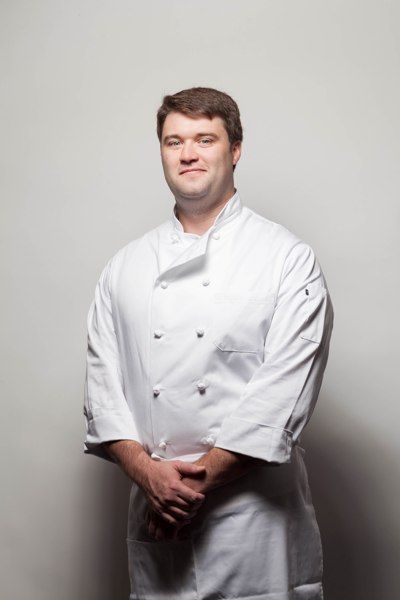 Chef Graham Laborde, Kipper Club Test Kitchen, Houston
Graham originally hails from Lafayette, LA, but he has called Houston home for the last two years. He is the oldest of three brothers but he likes to say that that is just the "tip of the iceberg" when it comes to his family. It is this deep connection and devotion to family that drives him in just about everything he does.
From the first time he heard his grandmother speak the words, "If you're not going to help, get out of the kitchen", he was hooked. He was initially exposed to two styles of cuisine. His mother is a wonderful cook and entertainer with an eye for fine dining. His grandmother was a master of production who never batted an eye at ten or fifteen additional guests because you can always "put on another pot of rice". Graham has found his success in balancing both sides of this equation.
Cooking has always been a passion of his but it was not always his career. He attended Georgetown University initially as a government major before the desire to attend culinary school struck him. Convincing his parents was no easy task but they recognized his zeal for the industry life. He selected Johnson and Wales in Providence, Rhode Island because it offered both a strong base of culinary knowledge and the ability to study abroad. He was one of four students selected in his second year to perform his culinary externship abroad in Dublin and Galway City Ireland.
Since culinary school Graham has been very busy. He initially moved to New Orleans, LA where he worked at restaurants Commander's Palace, Stella, and Boucherie. His experiences at these restaurants were invaluable. His next opportunity was as Executive Chef at a private hunting lodge in Gueydan, Louisiana. The Florence Club was a blank slate and it offered him an opportunity to apply his personal signature to a guest's overall experience. It was so much more than just the food.
After moving to Houston, Graham worked with Chef Jonathan Jones to open Concepcion. Thought the restaurant was critically well received, it fizzled after just a few months. It was however a fantastic experience for Graham in the way of exposure. The Houston culinary scene is a very closely knitted group and this job was a foot in the door. It also cultivated his relationship with Felix Florez of Black Hill Meats.
For the last year and a half, Graham has worked for Felix as Operations Manager for Black Hill and Texas Ranchers Network. His duties include but are not limited to; butcher, bookkeeper, manager, director of sanitation, mechanic, salesperson, receptionist, and subcontractor. In his time at Black Hill and TRN, he has begun a stage program in order to pass the trade of butchery on to other chefs in the Houston area. But his true passion remains in the kitchen.