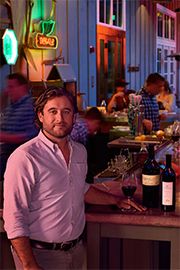 Chris Hall - Long Meadow Ranch Winery
The ambassador of Long Meadow Ranch's portfolio of family-run businesses, Chris is Executive Vice President - Long Meadow Ranch & Affiliates. Chris leads the sales, marketing and destination activities directed at achieving the family's mission to produce and purvey world-class wine and food and to create the highest quality wine & food experiences that are richly flavorful, healthy, safe, and enjoyable.
Chris frequently takes to the road representing Long Meadow Ranch at international wine trade shows, food and wine festivals, and winemaker's dinners featuring Long Meadow Ranch products. The original architect of Long Meadow Ranch's organic fruit and vegetable programs, Chris also serves an advisory role for farm production at Long Meadow Ranch - Rutherford Estate.
Chris is responsible for the restaurant wine program at Farmstead at Long Meadow Ranch which features Long Meadow Ranch Winery's wines as well as domestic and international wines selected by Chris to complement the restaurant's American farmhouse cooking.
From the very beginning, Chris has been a driving force in the development of the diversified farming activities at Long Meadow Ranch. With the establishment of his first egg-laying poultry flock in 1991, Chris began selling eggs to neighbors and friends. This venture was quickly augmented with the first production of vegetables from a garden he planted with his brother, Timothy. In the summer of 1991, Chris and Tim made their first appearance at the Napa Valley Farmers' Market in St. Helena, and Chris has been active in the business of the ranch ever since.
With an entrepreneurial drive and a natural strength in leadership, the San Francisco native has served in a variety of roles across the full range of the Hall family businesses, including production manager for LMR Rutherford Gardens (now part of our Rutherford Estate), on-premise sales manager, national sales manager, and vice-president of sales and most recently general manager.
A second-generation vintner dedicated to producing elegant, food-friendly artisan wines, Chris is a co-founder and past president of NG: The Next Generation in Wine, a young vintners trade association that counts among its members a vibrant group of family winery and vineyard owners in the Napa Valley who are second generation or later.
Chris is a member of the local Rutherford Volunteer Fire Department, having studied geology and fire science at the University of Colorado at Boulder. He lives in St. Helena with his wife, Tara.