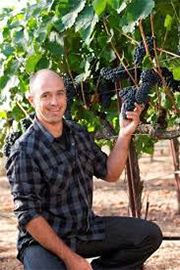 Michael Eddy - Louis Martini Winery
Michael Eddy, who grew up in Southern California, became fascinated by the process of transforming grapes into wine after brewing beer at home. "The complexity of wine has always intrigued me," explains Michael. "The idea of navigating all of the steps it takes to bring out different flavors in a wine really appeals to me."
As Director of North Coast Winemaking for E. & J. Gallo Winery, Michael oversees winemaking teams at the Gallo of Sonoma Winery, Louis M. Martini Winery and William Hill Estate Winery. He also collaborates on Gallo Signature Series, an acclaimed collection of wines crafted by third-generation family winemaker Gina Gallo.
Michael finds Gallo an exciting place to work, thanks to the tremendous resources available. "Winemaking is about choosing the right materials and using innovative techniques to achieve your vision, and Gallo affords an incredible array of resources and a broad range of tools," he says. The Winery's impressive estate vineyards—its historic Monte Rosso Vineyard in Sonoma Valley is Michael's favorite—are especially appealing to him.
Michael earned his bachelor's degree in Biology from Humboldt State University in Northern California, later pursuing a master's degree in Food Science, specializing in oenology, at the University of California at Davis. After stints in winemaking at California's Trefethen Family Vineyards, Beaulieu Vineyard and Rodney Strong Vineyards, Michael joined Gallo in 2005 as an associate winemaker, initially focusing on Cabernet Sauvignon and Merlot.
Throughout his tenure at Gallo, Michael has contributed his considerable red wine expertise to the Louis M. Martini winemaking team in Napa and was the founding winemaker for Ghost Pines, an acclaimed collection of multi-AVA wines. With Ghost Pines, Michael enjoyed the freedom of choosing the best grapes he could find—regardless of appellation—to make wines showcasing the complexity that can be coaxed from a particular varietal.
While the hands-on craft of making wine is a life-long passion for Michael, ultimately, it may be mentoring other winemakers that he finds most rewarding. "I like enabling young winemakers to do their thing," he says of leading a team. With scores of budding winemaking talent reporting to him across the North Coast, Michael has plenty of opportunity to do just that.