Are you looking for a way to amp up your meals in time for summer? Join in with Chef Rebecca Meeker on Thursday June 3rd at 6PM CT for the newest SommChat Virtual Experience- Gettin' Ready 4 Summer!
During this experience, you will learn from Chef Rebecca Meeker of Austin's Lucky Lime, who will virtually share the secrets with you to create a quick, healthy, and delicious gazpacho. Representatives of Mayawell will also be there to pair their healthy, prebiotic soda drink to complete your experience.
All you need to enjoy this experience is a few simple items from the store! OR If you are in the Austin area, you can make it even easier by ordering a box from Lucky Lime full of both the ingredients to make the gazapacho and two cans of the Drink Mayawell soda, DELIVERED directly to YOU.
Once you have purchased your Zoom Viewing, you will receive a confirmation email that contains the ingredients needed for the Gazpacho recipe and the information to purchase your box of ingredients for delivery to you in the Austin area.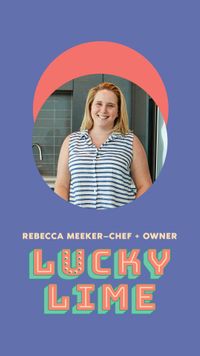 Chef Rebecca Meeker, Eat Lucky LiME
Chef and Founder Rebecca Meeker worked for 12 years in some of the world's most prestigious kitchens. After graduating from California Culinary Academy in San Francisco in 2003, she was part of the opening team at L'Atelier de Joel Robuchon in NYC, then the Michelin-starred L'Atelier de Joel Robuchon and Salon de Thé in Taipei. She came home to Austin in 2010 to open La Corsha Hospitality Group's first fine-dining restaurant, Congress, as its Chef de Cuisine. In 2013, Rebecca joined McGuire Moorman Hospitality Group where she oversaw all culinary aspects of the re-opening of the iconic Austin restaurant, Jeffrey's, and its sister, Josephine House.
In 2017, Rebecca's training as a certified holistic health coach led her to create Lucky Lime in order to bring world-class, nutritious meals to busy people, whether that's within a big, busy office, a shared workspace, a coffee shop frequented by freelancers, or at home.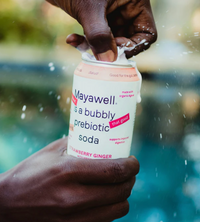 Mayawell
It's all about that good gut feeling. Mayawell is the first prebiotic beverage made with organic, hand-harvested agave. The agave is an amazing, life-giving plant and Mayawell leverages its proprietary Active Agave ingredient to deliver crucial fermentable fiber to the gut. ¡Salud!