Somms Under Fire 2017 Pisco Porton Mosto Verde Cocktail Challenge Recipes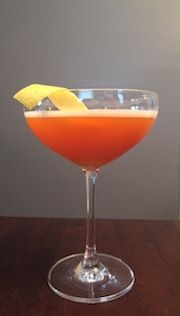 The Winning Cocktail: Jill Zimorski's "Brass Monkey Gland"
Inspired by the Beastie Boy's "Brass Monkey"
Ingredients for 3 oz portion:
1 oz. Pisco Portón Mosto Verde
1 ¼ oz. Lakewood Organic Carrot Juice
½ oz. Spiced Rooibos Syrup
¼ oz. Lemon Juice
In a Boston Shaker, combine Pisco, Carrot Juice, Spiced Rooibos Syrup and Lemon Juice with ice. Shake vigorously and strain into coupe/up glass.
GARNISH: Lemon Peel, trimmed into neat rectangle, rough edges removed. Twist peel, rub gently around rim of glass and add to cocktail, hooked over the rim of glass so it is partially submerged into cocktail.
Spiced Rooibos Syrup:
For 8 oz. portion
8 oz. Water
4 bags NUMI Rooibos Tea
.5 oz. Fresh Ginger
8 oz. White Sugar
15 seeds Whole Cardamom
In a saucepan, bring 1 C (8 fl. oz.) Water to boil and then add 4 NUMI Rooibos tea bags and steep for 10 minutes. Remove tea bags. Add 1 C (8 oz.) white sugar and stir until dissolved. If necessary, put saucepan over medium heat to aid sugar dissolution.
When sugar is fully dissolved, add 4 "coins" fresh ginger root – (2 mm thick slices of the root – resemble the size and shape of coins) & 15 whole cardamom seeds. Put saucepan over low heat and steep for 15 minutes. Strain out seeds and ginger, cool and bottle.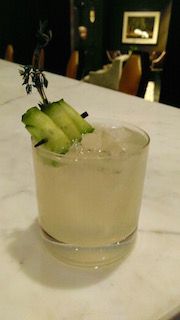 Hai Tran's "Pisco Thyme (Gonna Give It to Ya!)"
Inspired by Mark Ronson & Bruno Mars' "Uptown Funk
Ingredients for 3 oz portion:
1 oz Pisco Porton "Mosto Verde"
¼ oz Lemon Juice
½ oz Cucumber-Thyme Simple Syrup
¼ oz Club Soda (Q or Fever Tree)
Add Pisco, Lemon Juice, Cucumber-Thyme Simple Syrup into cocktail glass. Add ice and stir. Strain over fresh ice in rocks glass and top off with club soda.
Garnish: Peel three ribbons of cucumber. Roll ribbons into cylinders, with one filled with thyme. Place on cocktail pick with the cucumber wrapped thyme being in the middle.
Cucumber-Thyme Simple Syrup:
Yield: 1.5 cups
1 cup Water
1 cup Sugar
½ of cucumber (sliced)
1 cup of Thyme Sprigs
Splash of Pisco Porton
Combine water and sugar. Bring to a boil. Take off heat and add cucumber and thyme. Let this steep while water cools down (approximately 10-15 minutes). Taste to make sure the thyme and cucumber don't make the syrup bitter. Double strain and add a splash of Pisco to fortify.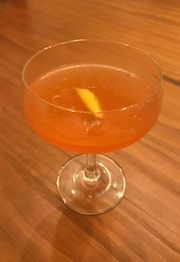 Eric Crane's "Sugar Magnolia
Inspired by the Grateful Dead's "Sugar Magnolia"
Ingredients:
.5 oz Agave
1 oz Fresh Lemon Juice
1.5 oz Pisco Porton Mosto Verde
Dash of Angostura bitters
Lemon Twist
Shake ingredients over fresh ice. Strain into a coupe. Drink many.