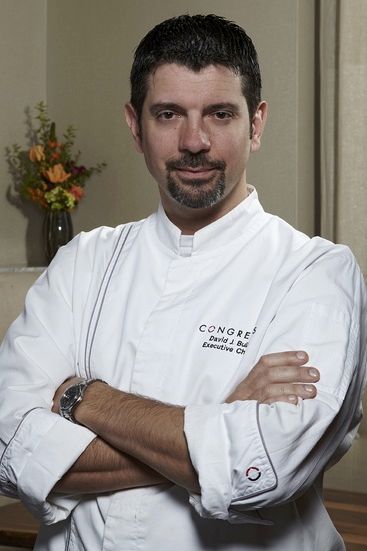 Chef David Bull, Congress Austin
Growing up in his family's restaurant, David Bull learned the inner workings of a kitchen and the role a restaurant plays in the community. These experiences not only showed him his love of cooking, but also taught him that creating lasting memories through taste, smell and the feelings associated with them, connects people to each other. He believes a restaurant is responsible for growing these bonds and giving back to the community that supports it, and that philosophy drives everything he does at Congress, Second Bar + Kitchen and Bar Congress.
Chef Bull graduated from the Culinary Institute of America in 1994, and then joined The Mansion on Turtle Creek in Dallas, Texas. He moved quickly through the ranks at The Mansion to earn distinction as the youngest-ever sous chef employed by the venerable hotel. He then moved to Austin, serving as executive chef of the Driskill Grill, where he and his team earned the Austin American-Statesman's Number One Restaurant Award for three consecutive years. With Chef Bull at the helm, USA Today recognized the five-star Driskill Grill as one of the country's Top 50 Hotel Restaurants.
Food and Wine Magazine honored Chef Bull as one of "The Best New Chefs 2003." In 2006 he appeared on the Food Network as an Iron Chef America competitor. And in 2007, Chef Bull was nominated for the prestigious James Beard award for "Best New Chef Southwest."
In 2007 Chef Bull was named chef partner of La Corsha Hospitality Group, an Austin-based company that restores and operates historic landmark hotels. As chef partner he oversees all culinary operations for La Corsha Hospitality Group.
In 2009 Chef Bull released his interactive cookbook, Bull's Eye on Food, and helped start La Corsha Restaurant Partners, the creative team behind Congress, Second Bar + Kitchen and Bar Congress.