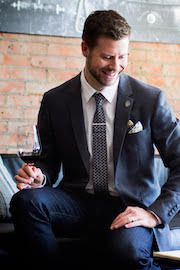 Master Sommelier David Keck, Partner at Goodnight Hospitality
Master Sommelier David Keck discovered his love for wine while pursuing a career — and traveling the world — as an opera singer.
David passed his Master Sommelier exam in 2016, making him the 149th American Master Sommelier and the 233rd in the world. Shortly after, David co-founded Goodnight Hospitality in Houston. His first project, the honky-tonk Goodnight Charlie's, opened at the end of 2017, and several more projects are planned for 2019.
Previously, David ran Camerata at Paulie's wine bar for three years, which rose to national acclaim under his leadership.
David was named one of Food & Wine's Sommeliers of the Year in 2016. He has a Master of Music Degree from Rice University, an undergraduate degree in English from Columbia University and attended Juilliard for opera performance.