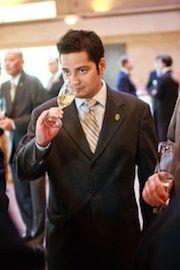 Master Sommelier Devon Broglie, Whole Foods Market
Devon Broglie became a Master Sommelier in 2011. He has spent tens of thousands of hours studying, tasting, and selling wine. Broglie is intimately familiar with the wine regions of the world, the grapes that they grow, and the laws that govern them, as well as what factors influence the look, smell, taste, and ultimately the value of a wine. As he puts it: Being a Master Sommelier doesn't define who I am as a person or a professional but I hope it validates the passion and dedication I have for assessing and selecting incredible wines to offer our customers.
His interest in hospitality, food and wine blossomed at Duke University where, while earning a double degree in Psychology and Economics, he worked his first restaurant job and was hooked. Determined to be successful in the world of hospitality, Devon worked his way up from busboy to GM. His budding passion for wine growing, he decided to sell all of his earthly possessions and follow his love to Spain where he worked harvest for the pioneering winery Costers del Siurana in the Priorat region. Returning to the States, Devon started his career with Whole Foods Market in the wine department of the Durham, North Carolina store. Several years and moves later, he finally settled into his current position as Global Beverage Buyer at the company's headquarters in Austin, Texas.