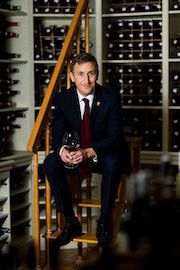 Master Sommelier Max Kast, Regional Sales Manager at Broadbent Selections
While studying History at the University of Montana, Max Kast supported himself by working in restaurants and wine bars. With a pocket full of tip money, he purchased a bottle of 1991 Chateau Musar Rouge and fell completely in love with wine. After graduating with a BA, he decided to forego the world of academia for a full time career in the world of food and wine when he realized he spent more time reading Michael Broadbent, Kermit Lynch, and Jancis Robinson than applying to grad school. Max was the wine director at the Relais & Chateaux property, Triple Creek Ranch in the Bitteroot Valley of Montana before he moved to Chapel Hill, NC where he spent 10-years as Wine Director of the Grand Chef Relais & Chateaux Fearrington House Restaurant. During his time at the Fearrington House he helped the property earn the coveted Grand Chef Relais & Chateaux and the Forbes Five Star designations.
In 2018 after over a decade of traveling, tasting, studying and more studying, Max earned the coveted designation of Master Sommelier from the Court of Master Sommeliers. Max in one of only 256 Master Sommeliers in the world. Since 2016 Max has worked for Broadbent Selections, where he passionately promotes their diverse portfolio of family-owned global boutique wineries from around the world including the wine that set him on his path, Chateau Musar.