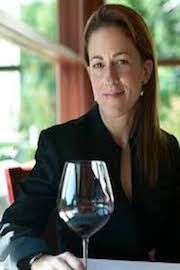 Master Sommelier Melissa Monosoff, Education Director, The Court of Master Sommeliers Americas
Ms. Monosoff is a graduate of the Culinary Institute of America and has honed her skills at the top restaurants in Philadelphia as a cook, sommelier, bartender and beverage director. These restaurants are among the nest in the region, including the Fountain Restaurant at the Four Seasons Hotel, Striped Bass and most recently Savona in GulphMills, PA. Melissa has been the Education Director for the Court of Master Sommeliers since 2013.
Monosoff became a Master Sommelier in February of 2010. She is the 17th woman in the world to hold this title. Her passion for all things wine and beer related have earned her several accolades. In 2009 and 2010 both Philadelphia Magazine and Main Line Magazine named her "Best Sommelier". Wine & Spirits Magazine recognized her as one of America's "Best Young Sommeliers" and she was a James Beard Foundation nominee for "Outstanding Wine Service" in 2011. In addition to her reputation as a wine expert, Monosoff is becoming a recognized name in the beer community, having completed her Certified Cicerone in June of 2013. She is now working towards her Advanced Cicerone Certification.